What is a Customer Data Platform (CDP)
A Customer Data Platform brings together the complete history of interactions and behaviors across all channels, online or offline, to provide a robust, in-depth understanding of every individual customer. This enables businesses to provide a unified and omnichannel customer experience that meets customers' expectations. By leveraging a CDP, businesses shift the use of the customer database from IT to the entire business, while leaving the technical teams in control.
The growing volume of big data overloaded customer-facing teams, left them with no practical way to successfully integrate all customer data points to ensure a completely data-driven decision-making approach. So, designed with the business user in mind, a CDP focuses on creating a central location for all customer data, including socio-demographic data, product portfolio, transactional data to web and mobile browsing history, email, chat, and phone interactions with the brand, social media behavior, and more.
What are the features of a Customer Data Platform?
CDPs have 3 functions:
They integrate and aggregate data from a multitude of channels and data sources in different formats, structured and unstructured both in batch and streaming. On the one hand, there's interaction data that typically originates from transactional behavior, and entity data on the other that is often managed by CRM systems.
E.g. data from social media, your own CRM, customer purchase records, etc.
CDPs provide a comprehensive Single Customer View (SCV) – or 'Customer DNA' – about every customer on an individual level. This holistic customer profile that consists of metrics enables you to engage with individual customers throughout their customer journey."
E.g. demographic data such as age and income, lifestyle and behavioral traits, product propensity scores, and customer lifetime value.
They allow external systems to access these insights in order to engage with customers.
E.g. advertising platforms to grow awareness and build customers, CRM systems for outbound communications, websites to adapt homepage offers accordingly, and contact centers to improve customer satisfaction.

Customers want to be communicated to on a 1-to-1 basis and
CDP software helps businesses scale personalization efforts
so you can talk to your customers like individuals, not just numbers.
CDP software needn't be complicated to understand, in fact, our customer-centric CDP,
the intelligent Engagement Platform, puts the customers and the centre of your business.
Meaning communications are more relevant and are designed with the next-best-action in mind,
leading to the next-best experience for customers.
Download our short and simple overview about how
CDP software can make your marketing more personal.
What is the difference between a CDP and a CRM, DMP,
data lake, and marketing automation tool
A CDP versus:
CRM
A CRM stores transactions and keeps a record of customers. It can't store information on how, where, and when customers are navigating through their customer journey. Also, when the customer is not identified, no interactions can be stored.
Read our article on CDPs vs CRMs for a detailed overview of the main differences.
DMP
A DMP does not manage Personal Identifiable Information (PII). It puts customers into segments but doesn't allow individual data from the customer to be used. It's not possible, e.g., to individually calculate someone's credit card bonus savings for this month.
Our article on CDPs vs DMPs provides a deeper dive on the differences.
Data lake / warehouse
A data lake does not allow identity resolution. They are built for data analysis and not customer interactions, especially when done in real-time.
In our article on data lakes and data warehouses, we go over their capabilities in depth.
Marketing automation
A marketing automation platform can primarily gather contact record data and uses that and other basic interaction data to trigger broad messages.
A CDP for one-to-one personalized marketing experiences
Creating one-to-one personalized marketing requires accurate and comprehensive customer data. A CDP helps businesses make more of their data.
An Intelligent Engagement Platform offers more than standard CDP functionality with access to fast, insightful and actionable data.
It's intelligent because our Customer DNA gives businesses the most sophisticated view of your customers. AI-powered decision-making enables your brand to engage with the next-best-action via real-time interaction management (RTIM). And our platform is simpler to adapt with an intuitive interface and makes it easier for business users to use.
See how an Intelligent Engagement Platform can help you engage better with your customers and build more successful relationships. Watch our short video now:
Features & capabilities of an advanced CDP
With so many CDP vendors with varying levels of sophistication, it is important to fully understand their advanced capabilities and how businesses benefit from using one.
There are 4 unique capabilities of advanced CDPs:
Aggregate customer data into a holistic, contextualized individual customer data profile with advanced analytics.
Personalize each interaction, to create a fluid conversation through an intuitive interface.
Automate insights and seamless orchestration, so that you learn from each interaction.
Uncover opportunities by targeting look-alike audiences and clusters with relevant experiences, all with the help of AI.

For more information, check out our CDP infographic.
What does our Intelligent Engagement Platform allow you to do?
With an Intelligent Engagement Platform, you:
identify customers;
understand their history, context, actions, preferences, and needs;
decide the next best action (experience);
provide that experience across relevant touchpoints;
learn from the customer's response so you can provide even more relevant experiences in the future.

Find out more about NGDATA's Intelligent Engagement Platform
3 engagement scenarios for real-time interactions
The key differentiator for our Intelligent Engagement Platform is the capability to connect data insights with real-time interactions.
3 engagement scenarios occur within that context: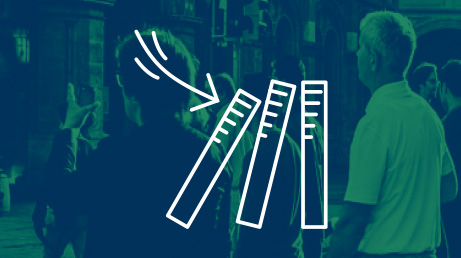 Outbound alert-based
Our Intelligent Engagement Platform will alert when there is a change in behavior – this could be transactional, event, or reaction-based. This will in turn trigger an outbound action in real-time to capitalize on the opportunity and assist the customer with the relevant information that may be of interest.
Inbound query-based
We enable personalized experiences to be served via branded (owned) channels of communication. For example, if a customer visits a page in the mobile app, they will get a personal best offer or service recommendation.
Outbound communications
A scheduled batch and blast campaigns are the third option. When marketing teams want to reach an audience segment with specific and selected attributes, they can select the audience and plan the campaign. For example, active mobile users between 16 – 45 years old who haven't used mobile payments in the last month and have a churn score over 25, could receive a personalized offer for such payments.
Artificial Intelligence (AI) in Customer Data Platforms
Predict and optimize experiences
With our Intelligent Engagement Platform's in-built AI capabilities, you can operationalize data models in real-time, by training formulas against a fully integrated ecosystem of living customer data. This allows you to deliver better, faster and more precisely predicted customer experiences.

Discover new opportunities
Common use cases could leverage AI to discover new opportunities as long as it is easy for a marketer to apply. This is why our Intelligent Engagement Platform provides AI capabilities built for the business user: clustering and look-alike modeling. With those you can, for instance, cluster dormant customers and use look-alike modeling to mirror customers who have shown the desired behavior. The main purpose of those capabilities is to identify new opportunities and target them with relevant personalized experiences.

Read in our blog what opportunities AI helps you discover.
Who will benefit from advanced Customer Data Platform functionality?
Our Intelligent Engagement Platform's intuitive user interface (UI) with role-based access makes it easy for business users to operate, allowing you to retain control. Anyone in your organization has easy access to the CDP such as marketers, data analysts, IT, sales, and customer experience. The no to low-code development and pre-designed models and formulas ensure quick setup, giving your marketers the freedom to manage the campaigns on their own and giving your IT department control over all the data that comes in. The real-time dashboards provide instant reporting and the AI capabilities generate automated omnichannel communications.
Our advanced CDP has intelligent solutions based on the needs of different industries. See how we can help yours.