Finding the Vital Link Across the Customer Data Value Chain
At NGDATA, we think it's important to reflect on the year just gone – not only to celebrate our achievements in MarTech, but to evaluate the ever-changing CDP landscape. By looking back, we can prepare to move forward. More specifically, we can continue to optimize our platform with relevant functionalities and sought-after intelligence.
We only published How to Stand Out in the CDP Crowd last summer, but the CDP space has evolved. New realities have changed how customers engage with brands online. Leveraging artificial intelligence (AI) in marketing automation is no longer exciting, but expected. When it comes to real-time interaction management (RTIM), orchestrating "omnichannel" interactions must now encompass every touchpoint in an organization. For truly effective customer engagement, platforms are expected to optimize every journey stage by continuously learning from data feedback. And, new vendors and acquisitions mean the CDP market has continued to grow. In fact, it's predicted that the CDP industry will almost triple in value between last year and 2026 (from $3.5 billion to $15.3 billion).
Despite this, one thing hasn't changed: to deliver customer experiences that stand out, you need a CDP with more capabilities. Here we consider why, and how our advanced CDP continues to show its worth across the customer data value chain (CDVC).
A customer data platform is a marketing system that unifies a company's customer data from marketing and other channels to enable customer modeling and optimize the timing and targeting of messages and offers.
For Customer Centricity, You Need a Platform that Spans the CDVC
The CDP market might be growing, but not all CDPs are created equal.
From basic data management platforms to advanced orchestration engines, the MarTech space is brimming with CDPs offering a diverse range of capabilities. Some offer simple data integration. Others offer smart analytics and omnichannel journey orchestration. At NGDATA, we know there's value in offering them all. Only then can you progress from insights to decision-making to orchestration.
After becoming the very first CDP vendor to gain RealCDP certification back in 2020, the CDP Institute awarded us RealCDP status once again earlier this year based on our comprehensive suite of capabilities. This includes our CDP's intelligence, which is a key differentiator for platforms across the board.
Today, organizations that want to achieve the golden goal – customer centricity – must invest in a CDP that aligns with this definition from Gartner:
"A customer data platform is a marketing technology that unifies a company's customer data from marketing and other channels to enable customer modeling and to optimize the timing and targeting of messages and offers."
The CDP market is crowded, which means that understanding which solutions tick these boxes can be challenging. That's why we've created an insightful "Types of CDP" infographic to help buyers make more informed MarTech decisions. It visualizes how leading tech analysts have segmented the CDP market based on differentiating platform features, and where they sit within the customer data value chain.
Finding a CDP Brain: From Customer Insights to Journey Orchestration
When finding a CDP that can bring your customer experience visions to life, the first step is to determine the features and functionalities needed for your business use cases, both simple and advanced.
From Ingestion to Activation, the Boston Consulting Group (BCG) outlines four key CDP functions to consider within your roadmap.
A single customer view must be at the heart of every use case, but the challenge for organizations isn't just building one. It's being able to determine the next most appropriate action for every individual at every moment.  To not only develop a holistic view of your customer, but to glean actionable insights from every inbound and outbound interaction, a smarter CDP with real-time capabilities needs to be at the top of your MarTech shopping list.
Why? Because intelligent CDPs with RTIM act as your brain and central nervous system. Built-in analytics do the thinking for you, before real-time interaction management guides the next best experience for every customer via the most appropriate execution channel.
Creating a MarTech Ecosystem with our End-to-end Engagement Platform 
At NGDATA, we identified the importance of RTIM for transforming insights into exceptional customer experiences early on. We're delighted to have been recognized for our "strong real-time data ingestion capabilities and good analytics" in The Forrester Wave™: Real-time Interaction Management, Q2 2022, which you can read more about here.
Our advanced CDP is designed to help marketers execute contextually relevant engagements at every stage of the customer lifecycle, which is why we're so proud that our real-time capabilities have now been officially recognized.
In The Forrester Wave™ for RTIM, it also states that:
"NGDATA's Intelligent Engagement Platform is a low-code CDP that simplifies the onboarding of data-driven use cases, without placing heavy demands on a firm's IT organization."
This summarizes our approach to CDP integration effectively. The Intelligent Engagement Platform enhances existing marketing automation platforms by enriching them with insights and steering them toward personalization via intelligent decision-making. Learning from our core opportunity index calculation, it guides applications toward effective, customer-centric, and contextually relevant engagements in real-time.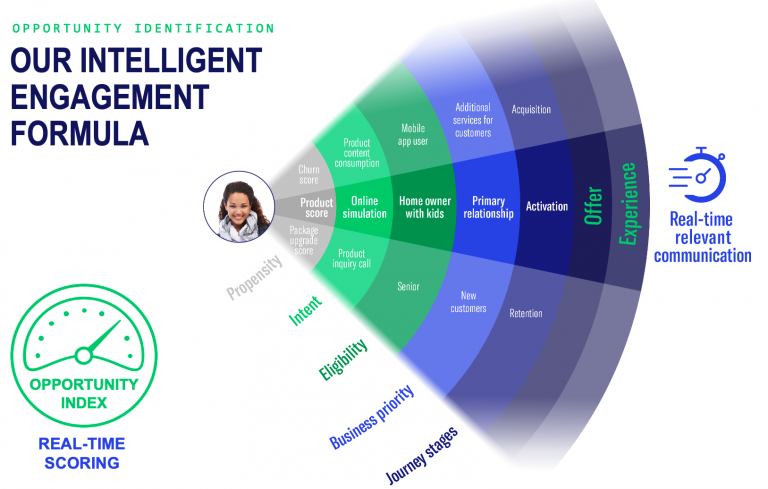 With out-of-the-box and customizable use cases, the Intelligent Engagement Platform enables marketers to learn from predictive analytics to drive value for customers immediately. By accessing a host of metrics, including purchase propensity, eligibility, and customer preferences, marketers can deliver the next best experience at exactly the right moment.
In 2020, we were recognized by Forrester as a customer-analytics-focused CDP based on our strengths in customer data management and customer engagement analysis. We've since received recognition once again with Forrester identifying us as "Contenders" in The Forrester Wave™: Customer Analytics Technologies, Q2 2022.
We've always known that strong insights are a vital ingredient for long-lasting connections between brands and customers, which is why customer analytics form the very foundation of our CDP. From the get-go, the Intelligent Engagement Platform develops what we call Customer DNA™, a single customer view that learns from every interaction and optimizes in real-time.
In the Forrester Wave™ for customer analytics technology, which we discuss in more detail here, it states that:
"NGDATA's Intelligent Engagement Platform excels at decisioning and optimization."
To put it simply, the real power of our CDP can be found in its intelligence – a pillar that not all customer experience technologies can bring to the table.
The Intelligent Engagement Platform: Your Ladder to New CDP Heights
The Intelligent Engagement Platform is a unique solution. Unlike other CDPs and marketing automation platforms, it enables organizations to achieve the best results across the entire customer data value chain. With recognized intelligence and decision-making, alongside RTIM-aided journey orchestration capabilities, our platform drives value at every stage. This begins with comprehensive data integration, continues with intelligent insights, progresses further with AI-powered decision-making, and results in the coordination of timely and highly relevant customer engagements.
Although this distinctive positioning presents our platform as a must-have solution for marketers, the Intelligent Engagement Platform is a powerful tool across organizations. Thanks to AI-powered RTIM, rich data can be gleaned from every touchpoint – providing business users from every department with the insights needed to engage with customers effectively.
Are you ready to create standout customer experiences with a platform that truly delivers on the CDVC promise? Get in touch to discuss how the Intelligent Engagement Platform could help you transform big data into hyper-targeted engagements at scale.
You can also request a product tour of our advanced CDP to watch its customer analytics and real-time functionalities in action.